Ballantyne Charlotte Restaurants & Bars
A creature of habit can be defined as a person who follows an un-varying routine. This is me. A resident of the Ballantyne/South Charlotte area, who continuously visits the same restaurants, knows the staff at said restaurants by name, sometimes isn't even delivered a menu and orders the same thing each visit. Someone who visits the same Starbucks so many mornings of the week, (and orders the same drink), that my almost 2yr old now knows the names of the baristas, and is excited to give Larry a high five every morning.

In the spring of 2014, the Ballantyne area was named one of the fastest growing zip codes in the country. With the amount of growth that we've seen here in the past 10 years, it's not surprising that the area is filled with new shopping centers, restaurants and bars every which way you look.
I'm almost embarrassed to admit the amount of new places that I have yet to discover in my own neighborhood, so, I've decided to shake it up a little. I've decided it's time to branch outside of the box, try new places, and explore this Ballantyne area that I love so much.
OGGI
A couple of weeks ago, I reached out to my Facebook friends for some Ballantyne restaurant suggestions for a night out with a girlfriend. Suggestions like the restaurant at Ballantyne Hotel, Ilios Noche, and OGGI filled the post. Having never been to OGGI, I thought this would be the perfect place for us, and let's be honest who doesn't love some bread and homemade pasta? Located in The Shoppes at Ardrey Kell, OGGI is small, and has a cozy feeling, with both indoor and outdoor dining. Always prepared, I made a reservation for 7:30 on a Saturday night. My gal pal Ashley and I were greeted by smiley hostesses, and seated in our booth right away. Our server was friendly, and very helpful when it came time for us to decide what to order. It would be an understatement to say that we enjoyed our food, giving that we both cleaned our plates. I'd highly recommend the bruschetta appetizer, and the homemade ravioli…YUMMMMY! And, although we opted not to order desert, my sweet tooth was actually crying for the Chocolate Vesuvio, a warm chocolate lava cake served over homemade zabalone cream and topped with vanilla bean ice cream.
I'll gladly return to OGGI, however, I'm not sure if I'd pick it over some of my other Ballantyne favorites, like Miro Spanish Grille, Ilios Noche, Cantina 1511, or my ALL TIME FAVORTIE, Firebirds.
Bradshaw Social House
There aren't many things that I love more than a good live band, a light atmosphere and fun people watching. If you ask me, the best spot in Ballantyne for all of the above is hands down Bradshaw Social House. It just so happens that after my gal pal and I left OGGI, we headed straight to Bradshaw's to meet our buddy Shane, hear some music and have lots of laughs!
Located just off Rea Rd, in the Village at Robinson Farms, Bradshaw's is family owned, and has been a Ballantyne hot spot since opening its doors 3 years ago.
Reclaimed wood, exposed ceilings, super cool garage doors that open the entire place to the patio and concrete bar tops give the Social House an upscale rustic personality that sets it apart from others in the area. I recently had the chance to sit and talk with Justin Sprowles, Partner/GM at Bradshaw's, about the bar, and hear his thoughts about the growth in Ballantyne. The Sprowles family has been in the restaurant/bar business in South Charlotte for 22 years. After growing up in and around the business, and playing college football at the University of Kentucky, he found himself back in Charlotte, working with his family to manage and run the bars for the past 11 years. Justin says his family chose the location of Bradshaw's because they were fond of the shopping center and were able to build the Social House from the ground up. Because the shopping center is small, Bradshaw's is a destination spot, bringing in regulars and crowds from all over the Ballantyne area, Waxhaw, Matthews and beyond. Justin particularly likes the Ballantyne area because he feels as though it has a lot to offer, with attractions for all ages, and it's close proximity to all the happenings in Uptown Charlotte. With a bloody mary/mimosa bar, college football, and live music in the evening, it's not surprising that Saturday is their busiest day of the week. Bradshaw's takes pride in not cutting corners with their food menu either, using only the highest quality ingredients. Justin highly recommends the bourbon marinated devils cut steak tips, as well as the fried chipotle gouda hand breaded cheese wedges, which he also assured me had no calories/fat,…so in that case, I'll take two orders next time!! When asked to finish the sentence, "Bradshaw Social House is the place to?...." Justin responded, saying it was "a place to enjoy yourself, and the company around you",….a fitting, simple answer, that seems to encompass exactly what the vibe at the Social House is all about.
Whatever you're mood is, I can bet you that you'll find a place in Ballantyne that suits you. Whether you're interested in upscale dining, a juicy burger and fries, some delicious gouda cheese wedges, live music on the weekend, or a place for Panther's football, you'll find it in the 28277 zip code. My neighborhood, that I've lived in for 26 years, that I love so much.
I wonder, what else there is here for me to discover?.......
If, after reading this blog you want to search some awesome homes for sale in the Ballantyne area, just click HERE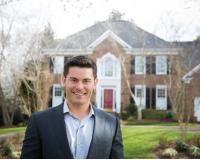 I'm a lifetime resident of South Charlotte and currently reside in the Berkeley neighborhood off Ballantyne Commons & Providence Roads. I pride myself on fast communication and providing the abso....