Halloween is my favorite holiday. As a child I always loved getting dressed up. The costume, the make-up, the drama of it all, (surprise surprise). I can remember helping my Dad decorate the front yard each year. One year, we built a huge stand up coffin, complete with a scary masked man inside with a flannel shirt and trucker hat. Along with the coffin, we made tombstones for each person in our family with something funny underneath our name as to how we died, (as I'm sitting here typing this out, I'm laughing out loud at my desk, at how creepy and inappropriate this sounds for a home with young children, none the less, I'll never forget!). I'm pretty sure that mine said I died from having a smart mouth, (another shocker, I know). Despite all of the costumes and decorations, the thing that I loved most as a child, and the thing that I dread now as an adult, are the TREATS! My friends and I would trek through the WHOLE neighborhood, only to fill our entire pillowcases full of sweet treats. Then, once we were home, we'd binge eat until we were sick with stomach aches, hide the rest until the next day, and repeat. Today, I make a beeline in the grocery store past the Halloween candy display to the fruits and vegetables, and just pretend it's not there.
There was always that one house in the neighborhood, the house that we came to skip after a year or two because we knew,....the house that gave out a box of raisins, or worse,....a toothbrush. I mean really? A toothbrush? I didn't get it then, but I get it now. Now, I, former "junk food junkie", want to be the house that gives something other than candy. As I do not want to be the least popular house in the neighborhood, I'm pretty sure I won't be handing out a toothbrush. However, there are so many other fun options, now I just have to decide.....
This blog post shares 40 alternatives to Candy for Halloween Treats, and has some really awesome ideas. Festive Halloween pencils, stickers, mini size play dough, gold fish, bouncy balls, and mini popcorn bags all make the list!
Local blogger, Lisa Leake, shares on her blog, "20 Ways To Do Halloween Without Candy", more healthy and fun substitutes for the sugary treats. She suggests glow sticks as a cool option, as well as local apples, or even a mini bottle of water to drink as your kiddos are out making the rounds.
If you plan to hand out non-food items for Halloween this year, I'd encourage you to join the Teal Pumpkin Project. The teal pumpkin lets families with children who do have food allergies know where the non-food options are available.
My little one is still too young to be trick or treating, (although, she's definitely not too young to be the cutest little Wonder Woman you've ever seen). When she is big enough to come home with a bag full of treats, I know I'll have to call on the Switch Witch, to come make a trade. The Switch Witch comes after Halloween to trade all of your kiddos candy for a toy, and maybe she donates it or sends it overseas to the troops. To me, this is genius! Especially when Mom and Dad have little will power themselves to stay out of the Reese's Cups, and Peanut M&M's, and Snickers, and Milk Duds,............. (no, I do not like chocolate, not one bit).
I know we are only a few spooky days away from the 31st, but, if you haven't already bought your treats, I'm going to encourage you to be creative with your treats this year. Parents will thank you, and you'll be doing yourself a favor by avoiding temptation! Now, I'm off to watch Hocus Pocus........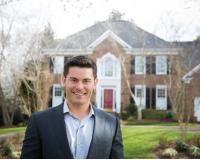 I'm a lifetime resident of South Charlotte and currently reside in the Berkeley neighborhood off Ballantyne Commons & Providence Roads. I pride myself on fast communication and providing the abso....