Typically, at 4:40am when I leave for my morning exercise class, I'm hit with warm, muggy, gross air as soon as I open the door. My little fly away hairs around my face immediately turn into curly cues, and I think of how sticky and sweaty it will be inside the fitness studio. However, this morning, when I opened the door and stepped outside there was no humidity, and the temperature was just perfect enough to put a pep in my step. Could it be? I hate to even think it, for fear of jinxing myself and the rest of you. Are we nearing the end of our beloved summer days and getting closer to, dare I say, fall?
MY FAVORITE TIME OF THE YEAR!!! Could there be anything better than the fall in North Carolina?
With cooler temps in the Charlotte region nearly within an arms reach, it's got me day dreaming this morning of all of my favorite things about the fall season. Obviously, the fashionista in me is looking forward to jeans, and boots, and blazers, and scarves, good hair days, and of course the fall outfit isn't complete with out a Starbucks red cup in hand, (how basic of me). Thoughts of apple picking, and pumpkin carving, Halloween costumes, mountain day trips, and who could forget PANTHERS FOOTBALL, are all dancing through my head today!
My favorite place to visit for apple picking is in Hendersonville, NC. Stepps Hillcrest Orchard is our go to place for apples. Not only can you spend the day in the 70 acre apple orchard, you can also pack a pic-nic, have fun in the corn maze, and take in the beautiful mountain scenery while you're there. If you're feeling froggy, you can always drive into Asheville to shop, eat and explore!! This trip is worth it just to see how amazing the trees and mountains look once the leaves change.
No Sunday can compare to a fall football Sunday in the Queen City. Everywhere you go, Panther pride can be felt throughout the city, as you run into fans in their jerseys, hats, and t-shirts. Fall weather makes for perfect home game tailgating in uptown Charlotte. Or, you could be like my family, and watch the games outside, with a fire in the pit and some meat on the grill. I'm wishing our Carolina Panthers another awesome season, with little injury, many wins, and lots of fun!!! (insert cheerleader high kick, a "whooooo", and #1 here)
Another event that always makes me think that cooler weather is upon us is the Yiasou Greek Festival. One of Charlotte's largest cultural events will take place this year, September 8-11. I attended my first Greek Festival when I was a sophmore at Myers Park High School, and since then, Baklava, Gyros, and Traditional Greek folk dancing always mark the start of a certain time of year.
As I'm finishing this blog post, and preparing to leave my office, (where it's about 35 degrees and I sit at my desk with a blanket wrapped around me), I've just checked and the temperature outside, which is now around 83 degrees. So today, as much as I have willed it to be 70 degrees outside, I will have to settle for cooler mornings and with my day dreams of autumn to get me through......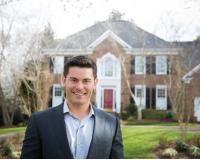 I'm a lifetime resident of South Charlotte and currently reside in the Berkeley neighborhood off Ballantyne Commons & Providence Roads. I pride myself on fast communication and providing the abso....